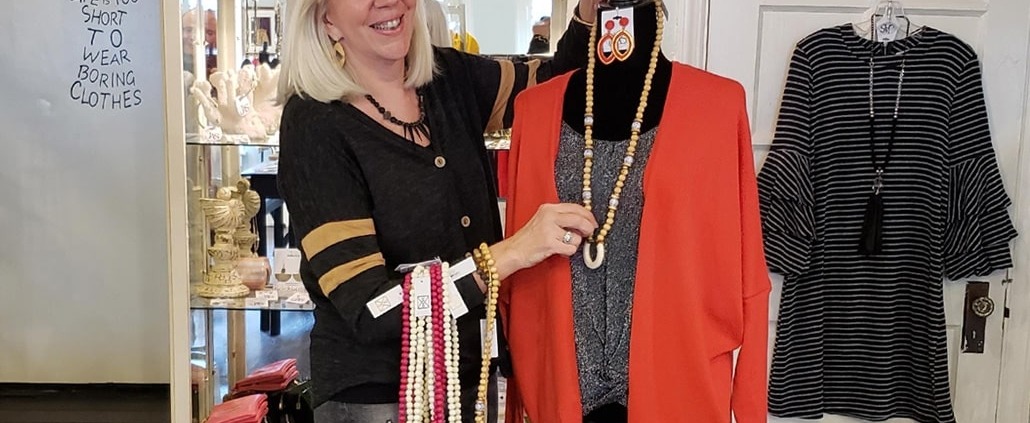 Becky Whittington never expected she would be utilizing the experience and skills she gained as a marketing and business teacher to run her own business. She served as a high school teacher for more than 18 years before moving into the role of Testing and Accountability Director for Lenoir County Public Schools. Today, Becky and her husband Wynn run Just Add Salt, a contemporary ladies apparel and jewelry boutique in downtown Kinston.
Visitors and Kinston locals love shopping at Just Add Salt. "Becky makes me feel welcome and her store is a comfortable place to visit," said Jessica Braxton, a frequent shopper at Just Add Salt. "It's a place to feel beautiful."
The idea to open a boutique started as a desire to develop a lifestyle brand. Wynn and Becky were attending a Jupiter Jones concert at the coast several years ago and noticed a variety of fishing and beach shirts. Guided by the premise that salt air and salt water make everything better, they had an idea for a name and Just Add Salt was born. They sat on the idea for three years until Becky retired from Lenoir County Public Schools.
Becky and Wynn opened their store on May 1, 2018. Located on Herritage Street across from Middle Grounds Coffeehouse, Just Add Salt currently stocks a wonderful variety of ladies apparel, jewelry, accessories, t-shirts, candles and other items that may be personalized with custom monogramming.
We recently caught up with Becky to find out more about what's shakin' at Just Add Salt.
Chris: "What inspired you to start your own business?"
Becky: "We felt that there was a tremendous need for another option for ladies to find affordable fashion and gift items in the downtown area. We saw the revitalization of downtown Kinston and wanted to be a part of it while contributing to the economy."
Chris: "What has been your biggest challenge?"
Becky: "Because our customers are so awesome and shop with us frequently, our biggest challenge has been maintaining inventory levels. This is the best problem a business could have!"
Chris: "What do you love most about Just Add Salt?"
Becky: "The best thing about Just Add Salt is our customers.  We love being able to visit with our customers and assist them with finding items that add a little spice to their lives. We also enjoy meeting people from all over the United States and various parts of the world who enjoy spending time with us in Kinston."
Visit Just Add Salt in downtown Kinston at 209 N Herritage Street.
Want more important local news like this? Please subscribe to get future editions of our newsletter, "The Edge." Stuff you need to know, delivered once a month. No SPAM, no bull, unsubscribe at any time. Sign up at http://eepurl.com/gdjrIj.
https://edge360creative.com/wp-content/uploads/2019/03/becky-just-add-salt-boutique-kinston.jpg
687
1030
edge360
https://edge360creative.com/wp-content/uploads/2017/09/edge360creativelogo_md-min-300x133.png
edge360
2019-02-15 21:04:56
2019-03-18 20:49:01
Just Add Salt Adding Spice to Local Closets