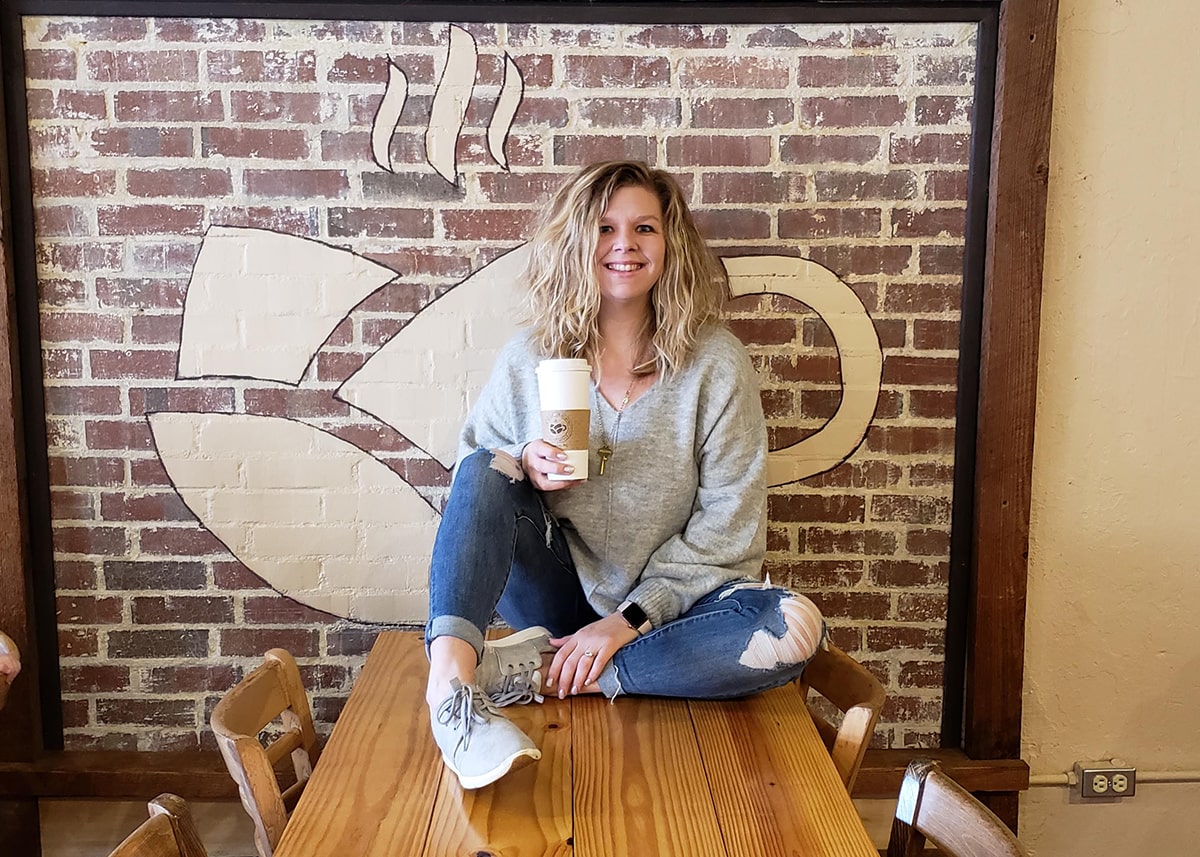 Accountant and part-time stand-up comedian turned barista and successful entrepreneur Jessica Dawson decided to pursue her dream of opening a coffee shop on Herritage Street in downtown Kinston in September of 2015. Fast forward three years, the birth of her son Arlo and thousands of frappés later, and she will soon venture into new grounds in downtown Goldsboro.
Jessy and her husband James, high school sweethearts, plan to open their second Middle Grounds Coffeehouse location in mid-January. Renovations have been underway for several weeks and excitement is brewing with Goldsboro locals. "As someone who works downtown, it's nice to see new and unique businesses open here. Downtown Goldsboro can use a place to get a good cup of coffee," said Mark Blizzard.
We recently caught up with Jessy to find out more about her grind.
Chris: What inspired you to start your own business?
Jessy: "I wanted to give people a place to belong, a place to call their own, and I was attracted to the freedom and independence of running my own business."
Chris: What has been your biggest challenge?
Jessy: "Finding and hiring the right people. I do my best to find people with the same love for others like I have. The people that work with me have to know how to brighten someone's day. I can teach anyone coffee, but finding good people is hard."
Chris: What do you love most about Middle Grounds?
Jessy: "The community and sense of belonging. I love when I walk in and everyone knows my name, and not just because I'm the owner. I enjoy seeing others make connections and spread the love in my shop. I feel like Middle Grounds has become a magical place in the midst of a world that can be so chaotic at times."
Chris: What are some interesting facts about your business most people don't know?
Jessy: "The renovation work was completed with a lot of help from my family. My mom and dad built all of the tables at the shop, and my husband James built the pallet wood wall and painted the MG logo on the brick wall feature that is framed by 100 year old tobacco barn beams. And, there are three hidden camouflaged doors at Middle Grounds."
Watch the Middle Grounds Facebook Page for news about opening day in Goldsboro!
Middle Grounds Coffeehouse
212 N Herritage Street
Kinston, NC 28501
114 S Center Street
Goldsboro, NC 27530
Want more important local news like this? Please subscribe to get future editions of our newsletter, "The Edge." Stuff you need to know, delivered once a month. No SPAM, no bull, unsubscribe at any time. Sign up at http://eepurl.com/gdjrIj.
https://edge360creative.com/wp-content/uploads/2019/01/jessy-middle-grounds-coffee-kinston.jpg
857
1200
edge360
https://edge360creative.com/wp-content/uploads/2017/09/edge360creativelogo_md-min-300x133.png
edge360
2019-01-07 08:57:11
2019-03-18 20:49:12
Middle Grounds Coffeehouse Takes Shot in Goldsboro