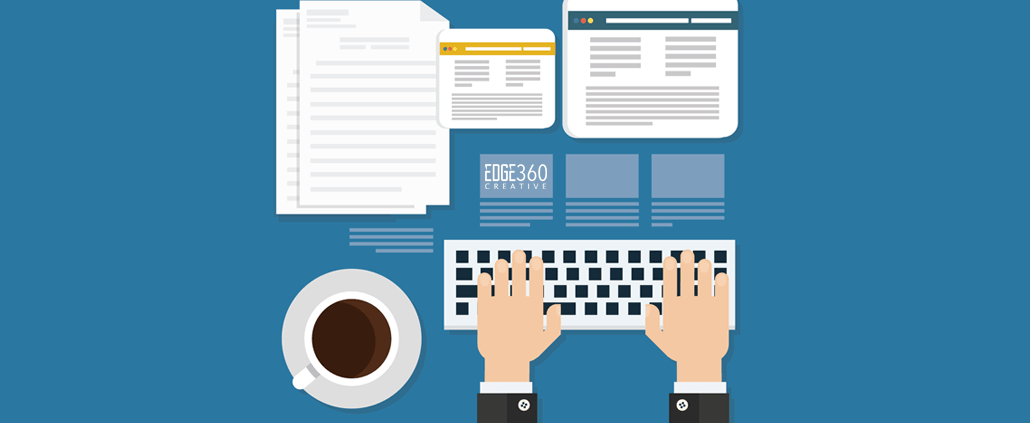 Your website represents your company. If your writing is sloppy, bloated or confused, you'll frustrate customers and lose sales, no matter how good your products or services are. On the other hand, great content can help you across the board, getting more shares, picking up backlinks and earning the trust of visitors.
Good content is your best employee. In fact, a recent Salesforce/Pardot survey found that consumers consider trust in a company's content to be 3 times more important that trust in the brand's actual employees. In addition, 97% of the same survey respondents also said that bad content negatively affected their trust in a brand.
Most businesses understand that they need to consistently produce good content. However, just wanting to do better won't make you a great website content writer, and the difference between strong and weak content can have a significant impact on brand perception, website traffic, and conversions.
Here are a few tips to help you produce better content for your website.
1. Always start with keyword research for search engine optimization
Before you even write the first word of a page or post on your website, you need to know what you are writing about. Keyword research is the most important part of digital marketing. SEO keyword research tells you what topics Google, and your target audience, finds relevant. It lets you peak into your competitors content strategy and highlights the strengths and weaknesses in your own. Knowing what keywords to use in your content helps you bring in more traffic to your website.
2. Drive toward powerful calls to action (CTAs)
What desired action do you want readers to take with the content you create? Your goal should never be to just have a reader consume the content. The ultimate goal of every piece of content you create should be to convince your users to take action. Before you even start writing, you need to know what your call to action will be, and you need to make your content compelling enough that readers want to perform that action.
Here are a few examples of calls to action you can incorporate:
Desired action: download a resource – Download our free guide for more expert tips.
Desired action: subscribe to a newsletter – Sign up for exclusive resources in your inbox each month.
Desired action: schedule a demo – Schedule a free demo to see how many hours you can save each day.
Desired action: share content – Know someone who could use these tips? Share this article and tag your friends.
Desired action: make a purchase – Click here and use offer code "CONTENT" to save 30% on your purchase.
When writing calls to action, put yourself in your reader's shoes. What would it take for a company you've never heard of to convince you to do something?
3. Make the reader feel something
There are many factors that go into viral content. Promotion is a huge factor, and brand identity, timing and plain luck all play a role. But almost all viral content shares one thing in common: emotional impact.
In a recent article, Hubspot interviewed three different marketing experts on why content goes viral. All three emphasized the importance of creating content that evokes an emotional response in the reader. The next time you are developing a piece of content, ask yourself, "What is good about this story? How can I make this content have more of an emotional impact on readers?"
4. Give your readers a reason to care
Good intros are hard to develop. It can feel quite unnatural to skip right to the point. Human nature is to provide some context, warm up your readers and then work your way into the main topic. But by that point, your reader is long gone.
Your website isn't literature, and visitors aren't there for your slow, measured flow. They want to get information or solve a problem quickly. Your job is to provide answers and then lead them to your call to action. And if you don't give them what they are looking for, they are going to move on and get that information somewhere else.
In your intro, tell your reader why your article is important, using emotion if possible, then remind the reader why they need to read your article. Every piece of content you write should tell your reader why they should invest their time in reading what you have to say. Give them a reason to care and tell them what they can accomplish by reading your content.
5. Provide added value
Your content writing should always offer value to the reader in terms of insightful ideas and actionable tips. However, if you really want your content to earn repeat traffic and an increase in search engine performance, give your readers a parting gift. It doesn't even have to cost you anything. It could be a link to a free webinar, a template, a worksheet, or even an opportunity to signup for your newsletter where they can receive more quality content from you.
Good content is good business
The key to a successful website is great content. Therefore, you should commit time and resources to not only creating content but learning how to improve your content writing skills. Including excellent copy on your website is one of the easiest ways to grab the attention of new visitors and keep them coming back for more. With enough discipline and practice, solid web content writing skills are within anyone's reach.
Want more tips and how-to articles to help take your business marketing to the next level? Please subscribe to get future editions of our newsletter, "The Edge." Stuff you need to know, delivered once a month. No SPAM, no bull, unsubscribe at any time. Sign up at http://eepurl.com/gdjrIj.
https://edge360creative.com/wp-content/uploads/2019/03/5-website-content-writing-tips.png
687
1030
edge360
https://edge360creative.com/wp-content/uploads/2017/09/edge360creativelogo_md-min-300x133.png
edge360
2019-03-08 21:57:21
2019-03-14 08:47:16
5 Website Content Writing Tips